Though she grew up reading classical poetry and was fascinated by literature as a youngling (Hind's awesome mother would ask her to recite Poe's Raven to guests at age 12 :)), Hind only began seriously writing poetry in Beirut after her return from NYC in 2006. It was in that difficult summer that she really expressed her distraught thoughts on paper, and her first collection of poems was born of war and exile.
In 2007, she had her first official spoken word reading at a xanadu* event, "Shoo Tabkha Ya Mara?" which roughly translates to "What's cookin', woman?". Hind chose disastrously depressing poems for this first reading, but it set her on a course which has not stopped till today.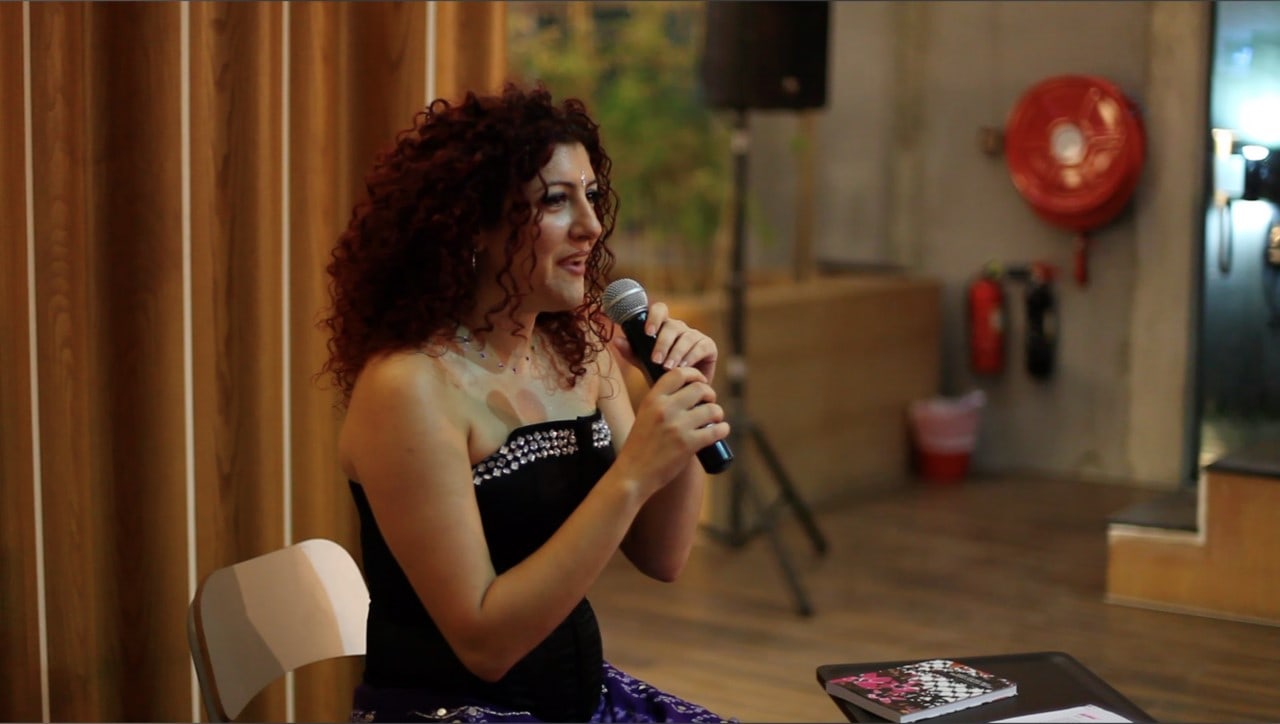 By 2011, she was performing in various festivals internationally, and as writer in residence at the IWP for that year. Being on stage has been liberating, and Hind has been really honored to hear from audiences and writers-in-the-making that her platform "The Poeticians" and her personal uncensored poetry have encouraged more honesty and openness in these niche communities.
Hind is confident she will be speaking poetic diatribes, honoring her ancestry and decrying injustice on platforms for as long as she has an urgency to do so and people wish to congregate to celebrate language. She no longer needs war or heartbreak to find poetry- it exists in the everyday experiences of seeing time leave its mark.
2017
Performed poetry at Sukoon readings in Mansion in Beirut.
2015
Performance in Beirut at the Poets & Performance festival hosted by University of Rennes in France & the House of International Writers in Beirut. Also performed at the Deklamons festival in Rennes, France.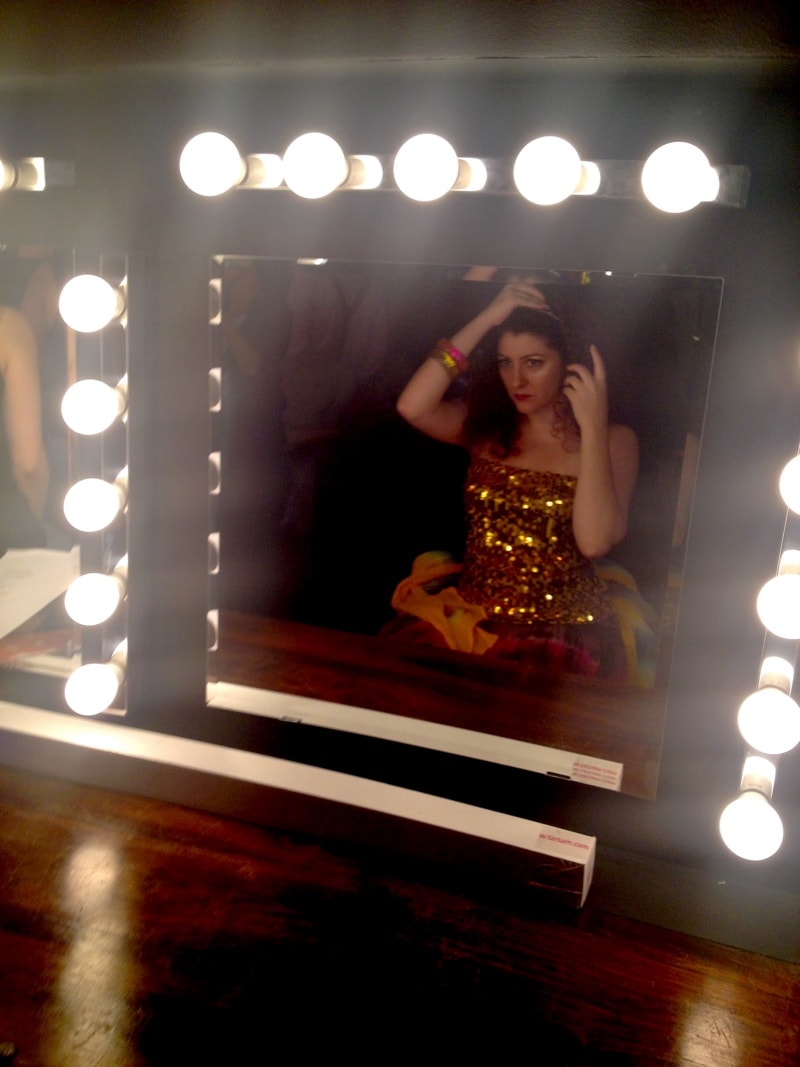 2014
Performed poetry several times & held panel talks at the Lodeve Voix de la Mediterranee poetry festival in the South of France
2013
Poetry at the Erich Fried Literaturehaus festival in Vienna, Austria.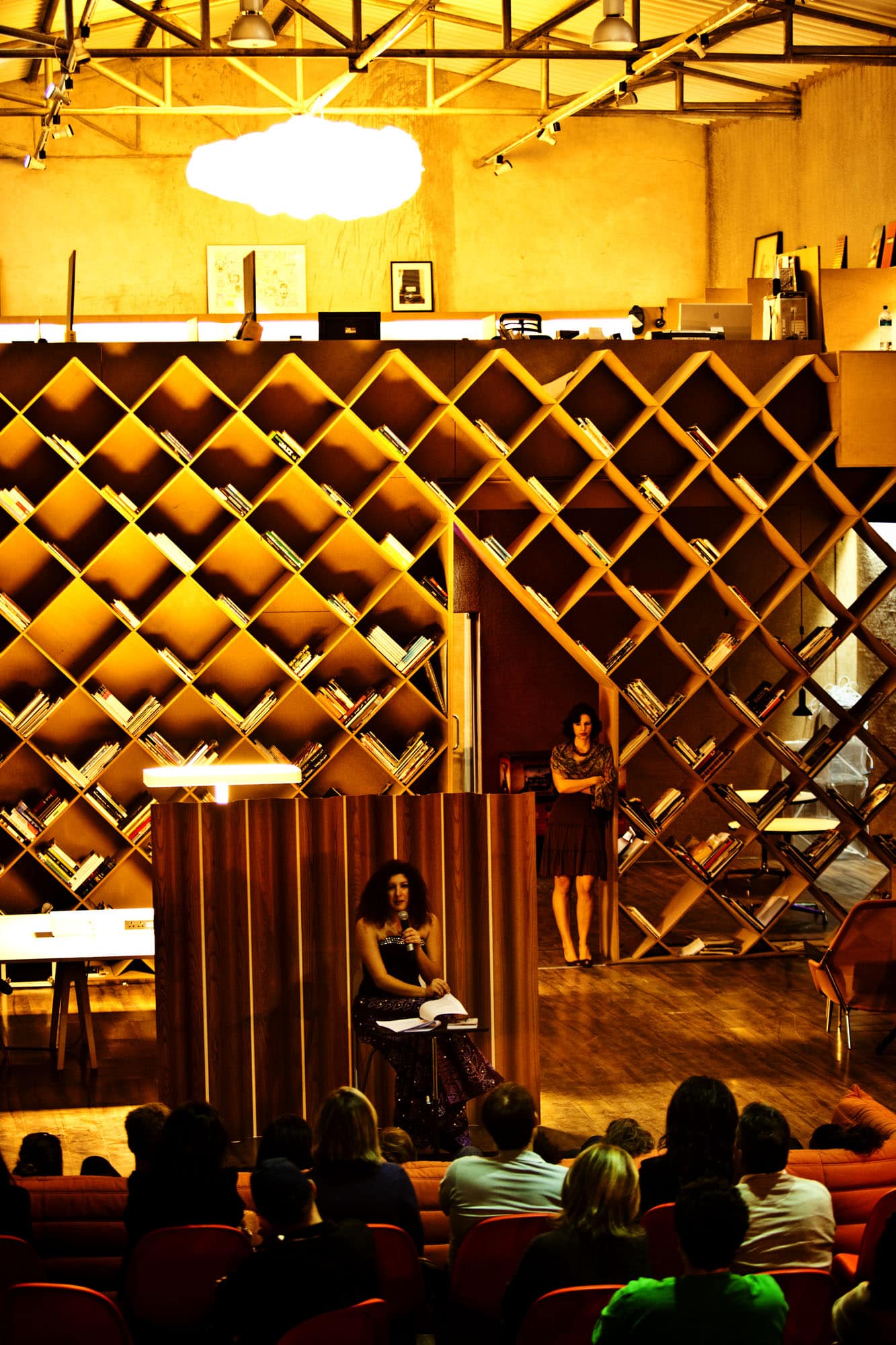 2016
Performed a solo poetry show at the Bristol Palestine Museum accompanied by the music of Chai For Three.
2012
Performed poetry at the Emirates Literature Festival in Dubai.
2011
Spoken word performance/ panel talk about the Arab Spring at the Berlin Poetry Festival, then at the Frankfurt book fair/Berlin Literaturewerkstatt later that year.
In November 2011, Hind performed a multimedia musical/visual poetry reading for DIPAF, Dubai. 
Hind also hosted & performed poetry at the Ladies Night charity show at The Fridge, with female artists from Dubai. 
In August 2011, Hind was awarded a 12-week writing residency at the Iowa University International Writers Program. Hind read poetry at the City of Asylum Jazz Poetry Festival in Pittsburgh, as well as taught spoken word classes to students in New Orleans, senior citizens in Iowa City, and performed numerous times for community centers, Iowa University, libraries, etc.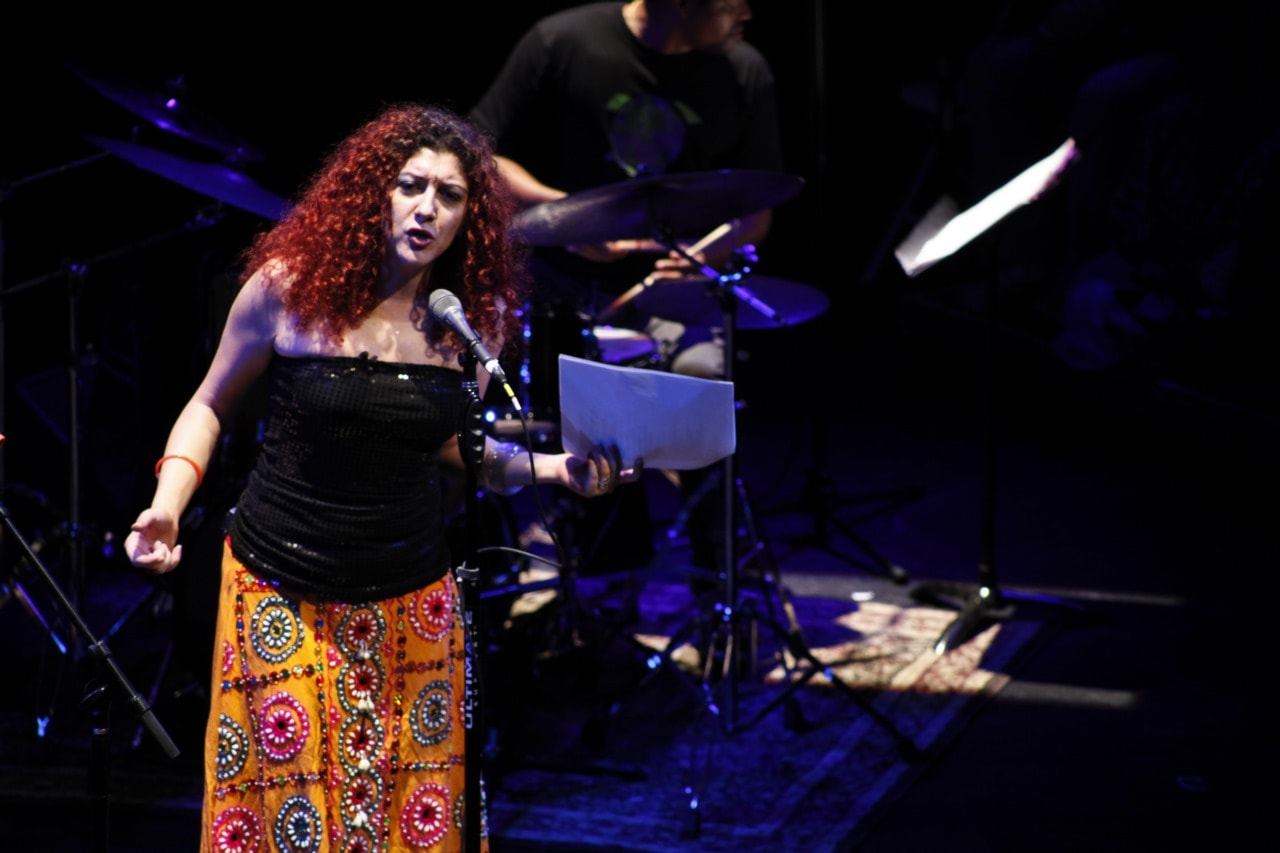 2010
Performed poetry and gave a talk about filmmaking, by invitation from poet Ethelbert Miller, at the Institute for Policy Studies in Washington.
2009
Performed poetry at Alwan for the Arts center in NYC, and at Howard University in Washington DC.
When Hind returned to Beirut after finishing her degree in NYC in 2006, she was both troubled by the lack of spoken word events, & impressed by the talent and wit of so many musicians, writers & poets in her community there. She realized that "If it does not exist, why not create it?" & that's how Poeticians was born, over a late night Beirut hangout with friends. Fellow Poetician pal Maral Ghanma picked the name.
Since 2007, The Poeticians has been a group of writers, readers, listeners, lovers & word warriors that have come together to share their thoughts, ambitions & fears with small intimate audiences in Beirut, Amman & Dubai. The poets are of all nationalities & read in English, Arabic and French.
The group is an elastic entity, with no rules, no boundaries, no censorship, no membership system or structure. It was never financially driven, nor had any brand sponsors or entrance fees. It created magic for over a decade.
As of 2017, Hind mostly stopped doing regular events, focusing more on special one-off occasions & choosing to pursue the film she's making about the poetesses.
The Poeticians will always be Hind's most beautiful, enriching, transcendent & communal experience.
2007 – 2020
The Poeticians cabal got together for monthly celebrations in either Beirut or Dubai, reading in different venues. The events were independent literary performances, book launches and social meetups in places like Samra Bar at Zico House (where Poeticians was launched), The Shelter in Al Quoz, Sikka Arts Festival, Bo-House cafe, Wild Peeta Shawarma (hehe), inside a shipping container at Street Fest Al Quoz, in Beit Beirut museum, at Fraiche cafe, at Sublime Lounge bar for several months and before that, at the City Max bar for over a year, as well as living rooms, gardens and other open spaces.
2017
We hosted & curated a 2-hour Poeticians event at the historic building of Beit Beirut in their opening show called "Sacred Catastrophe: Healing Lebanon", in collaboration with Poeticians old timer and coconspirator Zena El Khalil and dear friend Rewa Zeinati and her platform Sukoon.
2012 – 2020
Hosted Poeticians events at the Emirates Airline Festival Of Literature in Dubai for over eight years. The events were diverse and always great fun, with a super turnout and vibe. Some were held indoors in ballrooms, some outside by water under the stars across skyscrapers. Some were hosted by Hind alone, and others partnered with the wonderful Zeina Hashem Beck and her platform Punch.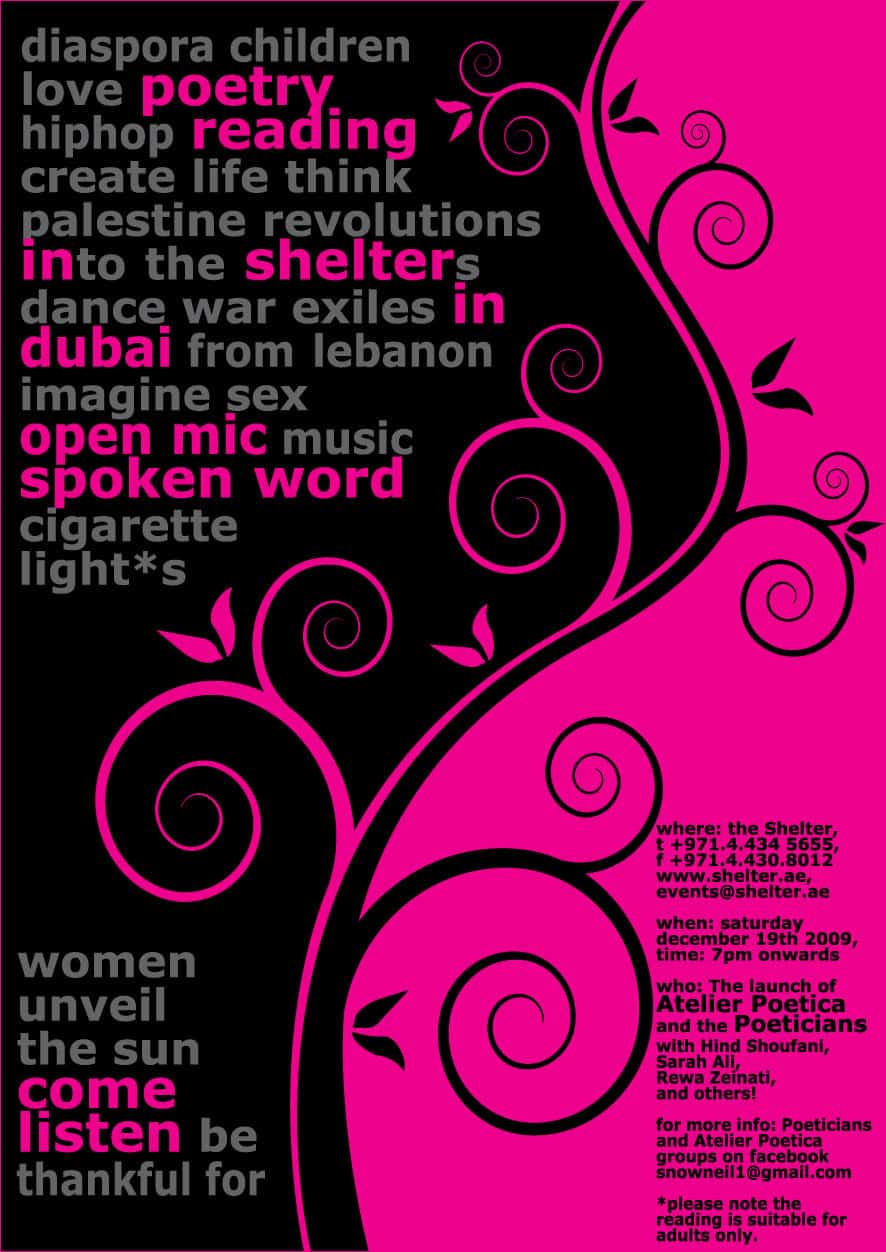 Moderating & Public Speaking
Ever since she got to give the valedictorian speech at her high school graduation, & after undergoing an embarrassing & challenging crash course in reporting on camera from the streets of Lebanon for her field producer job in Beirut at age 20, Hind has embraced the art of public speaking.
Aside from hosting cultural events & performing prose and poetry, Hind also has moderated conversations on the regional film industry, the importance of language & storytelling in the communal memory of landscapes, & the individual's artistic responsibility in society. She has moderated conversations, hosted press conferences & also been a panel speaker at events like The Dubai Lynx International Festival Of Creativity, Sikka Art Fair, Cabsat, Polo Beach Cup Dubai, Emirates Airline Festival of Literature, Bozar Art is Brussels, poetry festival in Lodeve, the Iowa City International Writers Program, as well as speaking in over twenty filmmaking/poetry panels and personal Q & A's in as many countries, from Tunisia to Paris to Japan.